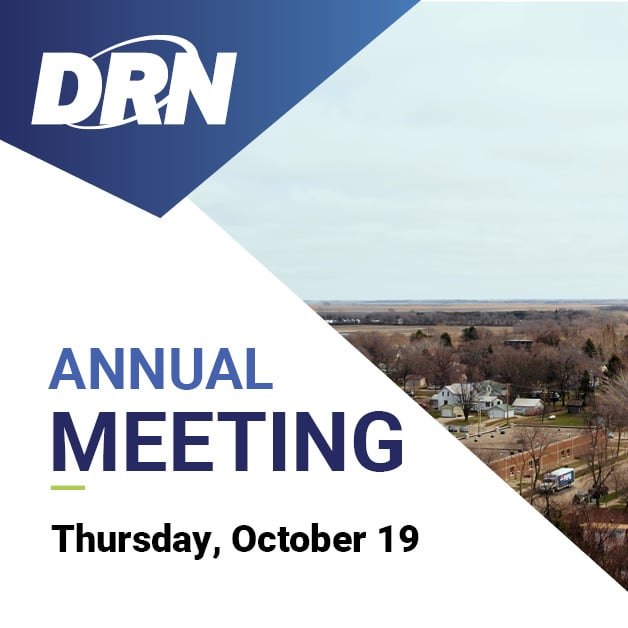 The annual meeting for Dickey Rural Telephone Cooperative (DRTC) has been scheduled for Thursday, October 19, 2023, at the Ellendale Public School Gymnasium, Ellendale, ND. A complimentary meal will be served from 4:45 to 6 p.m. The annual business meeting will convene at 6 p.m.
"The goal for this meeting is to inform members of the cooperative's financial status, service changes, and updates, and elect three directors. As members, this is your opportunity to learn more about the telecommunications industry and your company."

– Kent Schimke, DRN CEO General Manager
All DRN Cooperative members are encouraged to attend this meeting.
DRN's theme for the 2023 Cooperative Month is "Your Network, Your Connections, Your Community, Your DRN."
"This theme is very fitting for DRN as a cooperative because we are proud of the network we have built together for your connections and your community. For the past 70 plus years, DRN has been providing state-of-the-art telecommunications services and now is serving our members with fiber optic broadband internet,"

– Janell Hauck, DRN Marketing Manager
We hope you can join us for your Annual Meeting.
LIST OF NOMINATIONS FOR OFFICE OF DIRECTOR OF
DICKEY RURAL TELEPHONE COOPERATIVE
THE NAMES LISTED BELOW ARE THE NAMES THAT WERE NOMINATED BY THE NOMINATING COMMITTEE AT THEIR MEETING ON AUG. 29, 2023, TO BE VOTED UPON AT THE ANNUAL MEETING OF THIS COOPERATIVE TO BE HELD ON OCTOBER 19, 2023:
NOMINATIONS MADE BY NOMINATING COMMITTEE:
District 2 (Dickey, Litchville & Marion exchanges)
—Ralph Greer, Marion
District 6 (Crete & Milnor exchanges)
—Myron Yagow, Milnor
District 9 (Fullerton & Guelph exchanges)
—Dan Barton, Ellendale
NOMINATIONS BY PETITION:
None