The secret to happier kids? Limits on screen time.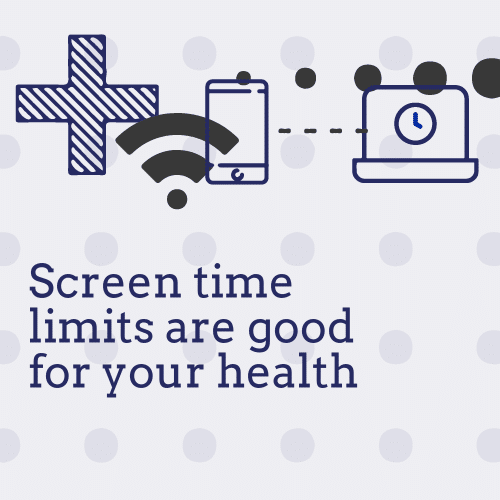 The difference between how much screen time most experts think is healthy for children versus how much time children actually spend on screens may surprise you. Here are some eye-opening facts:
For kids ages 2-5, the American Academy of Pediatrics recommends that non-educational screen time be kept to one hour each weekday and three hours per day on weekends. They also say that kids under 2 should only have screen time when it's educational and watched with a caregiver. But a 2019 JAMA (Journal of the American Medical Association) study showed that 87% of children are exceeding those exact recommendations.
The CDC's screen time infographic reports that kids ages 11-14 spend about nine hours per day on screens consuming entertainment (i.e., not educational screen time). The number for teenagers between 15-18 is about seven and a half hours per day.
A 2020 Pew Research study showed that although 84% of parents say they are confident about how much screen time is appropriate for their kids, 71% are still concerned that their kids spend too much time on screens.
Most troubling of all, perhaps, is the effect screen time has on kids' mental health. A 2018 study found that there's a direct correlation between the amount of screen time kids have and lower well-being. Kids who spent more than seven hours a day on screens were twice as likely to have mental health issues like depression and anxiety. Even four hours of screens a day was enough to show worse outcomes for kids' mental health.
These statistics can sound scary. And, frankly, they are. But ExperiencelQ from DRN is here to help, with tools that let you and your kids manage their screen time:
Keep an eye on how much screen time your kids have and which websites and apps they're using with helpful monitoring features.
Set limits on the amount of time kids can use certain websites and/or apps, particularly the ones kids are most drawn to. (For example, according to a recent report, while most TikTok users spend an average of 828 minutes per month using the app, kids spend an average of 102 minutes per day on TikTok-that's 3,060 minutes per month.)
Establish per-device restrictions to limit the hours of the day when children can use their cell phones, tablets, computers, or Smart TVs.
Don't let your children's screen time affect their mental health. Do your children a favor by limiting their screen time and helping them learn about what is and isn't good for them.
Ready to take control and steer your Wi-Fi experience? Call 344-5000 to add to your Internet plan and the DRN ReadiTech Wi-Fi App!